FOR THE FIRST TIME IN LATVIA!






VIDEO INTERVIEW in Latvian

DATE: Wednesday, November 02, 2011
Doors: 6 pm
Beginning: 7.30 pm
End: 10.30pm
(according to the venue)

Info: ARENA RIGA and FBI






LOCATION:

Arena Riga, Riga, Latvia (21 Skanstes Street, Riga LV 1013)
Capacity: 14,500 (concerts)
http://www.arenariga.com

Some inside pics of "Arena Riga" from easyget.lv: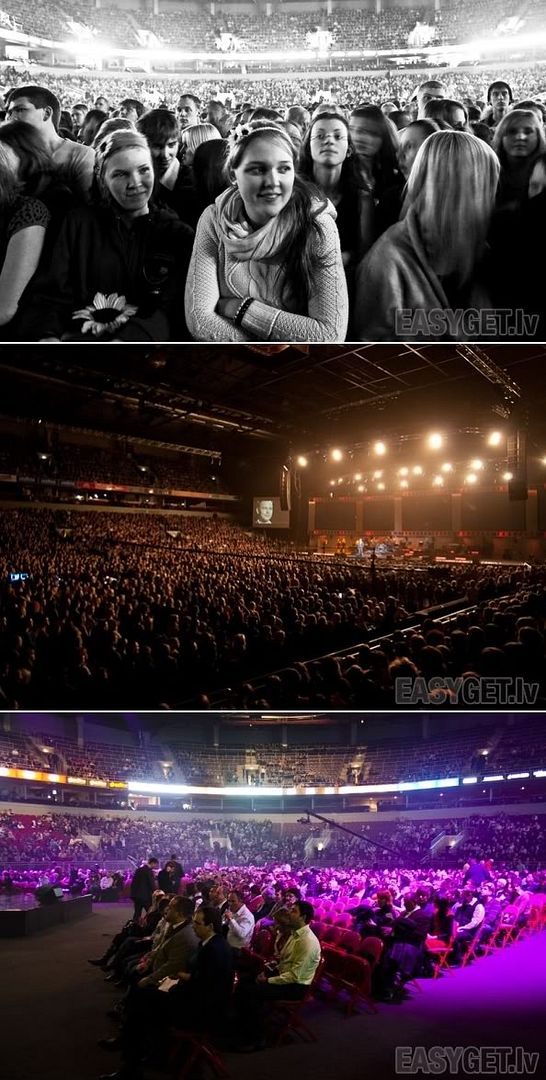 Tickets @ BILESU SERVISS:
First 1000 standing tickets - LVL* 15 (

SOLD OUT

), then LVL 20.
Seated - LVL 25 and 35

* LVL - the Latvian money is Lats.
1 euro = LVL 0.71
1 Lats = ~ EUR 1.40

GOLDEN TICKETS are available too, just click!

INSTRUCTIONS - how to buy a ticket on BILESUSERVISS website (click to see the pictures!):
1) Open www.bilesuserviss.lv and click on UK flag in the upper right corner, then click on the category "Music" and choose "Pop and Rock"
2) On the second page, find 30STM. Closer To The Edge Tour and click on "View"
3) When an info page opens (about the concert in Latvian) click on "Buy". There is a pop-up window: click on "Buy without registration"
4) On the left side of the page, change the seat choosing from "automatic" to "Seat selection".
5) Move the cursor over the "SEKTORS" on the left side to see where they're located. If you want a standing ticket, choose "SEKTORS 001". All the other sectors are seated.
6) For a seated place, click on the "SEKTORS" that you like to choose your place: you can see the row, the seat and the price of the ticket. Click on the chosen seat(s) and then - "Confirm all".
7) Proceed to check-out: verify the tickets you've chosen, select the delivery type and the payment type and the click on "Confirm selections".

The easiest way would be the "i-ticket", BUT... you can't choose it, if you're paying by credit card.
If you're coming to Riga early on the concert day, I would suggest "Pick up at Narvessen e-ticket office" or "Pick up from shown ticket box offices".
There are loads of "Narvessen" kiosks in city center, most of them opened every day from 8:00 to 21:00.
See the list HERE.

In Riga, the following ticket box offices are in the city center, not far from "Arena Riga":
- Rīgas Kongresu nams, Kr. Valdemāra iela 5 (opened from Monday to Friday, 10:00-14:00 and 15:00-19:00);
- Dailes teātris, Brīvības iela 75 (opened on Monday, from 14:00-19:00, from Tuesday to Friday, from 11:00-15:00);
- U/V STOCKMANN, 13. janvāra iela 8 (opened every day from 10:00-21:00, look for "Pastāvīgo klientu apkalpošanas nodaļa" (Customer service department) on the 3rd floor (4th floor in Latvian)).


ACCOMODATIONS

Nearest hotels to "Arena Riga".



Compare the hotel prices HERE!




HOW TO GET THERE



FROM RIGA AIRPORT (site - HERE)
- By taxi: the ride to the city center (15-20 minutes) costs about LVL 10 (~ EUR 14), to Arena Riga - about LVL 15 (~ EUR 21).
- By bus: take the bus Nr.22 (frequency 10-30 minutes, journey time ~30 minutes), go 14 stops and get off at the stop "Centrāltirgus". Cross the street at a pedestrian tunnel. Take the trolleybus Nr.3 or the bus Nr.11 from the stop "Centrālā stacija", go 6 stops and get off at the stop "Aristīda Briāna iela". Then follow the directions on the map (walk about 8 minutes).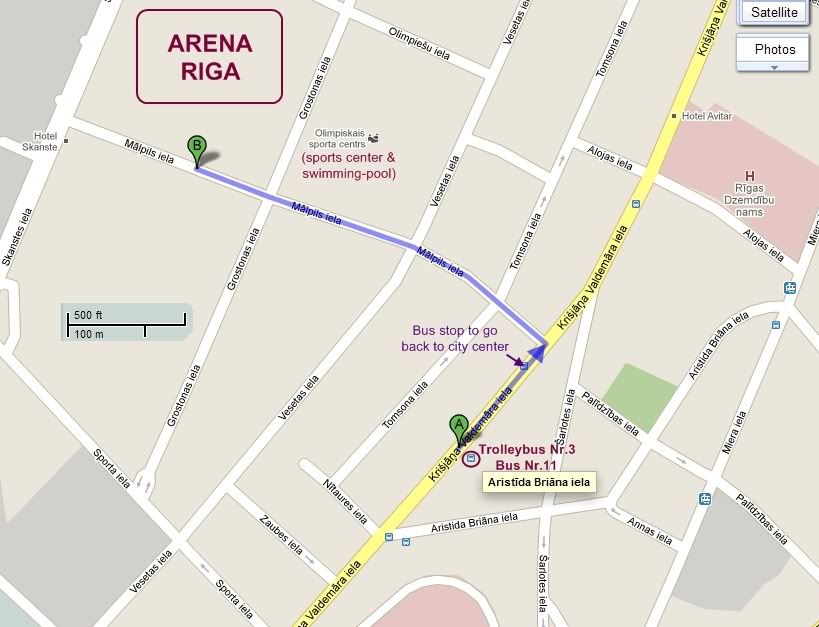 FROM RIGA CENTRAL TRAIN STATION (site - HERE, some info - HERE) or RIGA INTERNATIONAL COACH TERMINAL (site - HERE)
- By bus or trolleybus: go to the stop "Centrālā stacija" or "Merķeļa iela" (see the map bellow), take the trolleybus Nr.3 or the bus Nr.11, go six stops and get off at the stop "Aristīda Briāna iela". Then walk about 8 minutes (see the map above).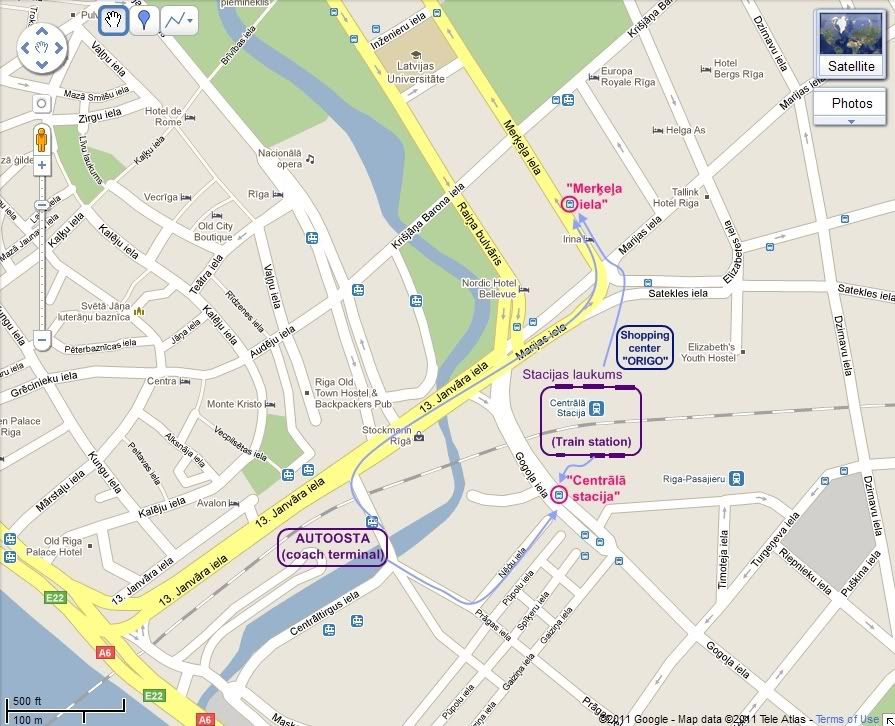 Transport tickets:
- A ticket for an unlimited number of trips is valid 24 hours from its first usage costs LVL 1.90. You can buy the ticket in a ticket vending machine in some bus stops or in the press kiosks.
- A ticket for one trip can be bought from the bus driver (price LVL 0.70), in a ticket vending machine, or in the press kiosks (price LVL 0.50). There are tickets for 4 (price LVL 2.00), 5 (price LVL 2.50), 10 (price LVL 4.75) and 20 (price LVL 9.00) trips.

FROM RIGA PASSENGER TERMINAL (ferry)
- By taxi: a 10 minutes ride, price ~ LVL 5.00.
- By foot: about 30 minutes, follow the Google Maps.

All about Riga public transports - HERE

General city center map with main transport terminals.


VISITING RIGA
In Riga, a "must see" is the Old Town, the Art Nouveau buildings and Central Market. HERE are some more suggestions.
HERE you can find some practical information about Riga: transports, sightseeing, shops, restaurants, hotels, etc.
And - tips from TRIPADVISOR
If you want to taste some traditional Latvian food, choose the restaurant "LIDO". HERE you can see some pics and even look at the menu in "Food delivery"!

You can find loads of suggestions about eating in Riga HERE and HERE.


ROLL CALL (updated to post #115)
Eriny +2
kaisam
Jesco

(?)


gavrjuwa
JohannaK1978
kuurake
Eija
karoleeen
Fruit
Juta
OlyaK.
Twiinu +1
Madara
Heidi-Finland + family
fairithm
Elis
CTTE
-Shade-
echelon_Mithra
Oracle at Delphi +1
GothySwe
Echus
chessu
Lynz
RebelFeel