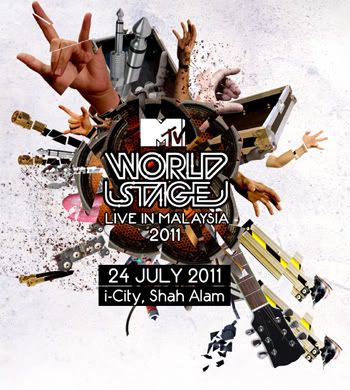 MTV WORLD STAGE 2011
http://worldstage.mtvasia.com/
MTV Networks Asia today announced that MTV World Stage will be held in Malaysia for the third time running on 24th July 2011 at a new venue, i-City in Shah Alam. The outdoor concert will feature live performances from popular international, regional and local recording artists. The first two acts announced to perform are the award-winning rock band
Thirty Seconds To Mars
and popular local band Pop Shuvit. - source;
http://www.mtvasia.com

LOCATION
i-City, Shah Alam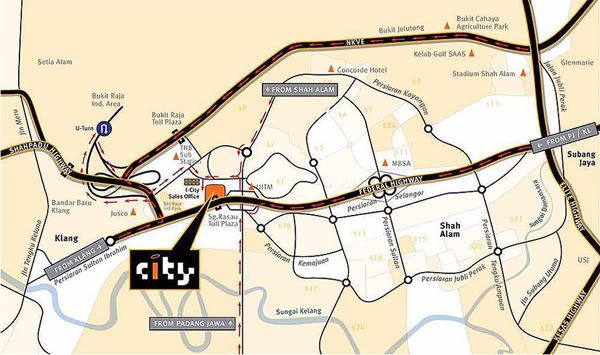 DATE
24 July 2011
LINEUP
as of 22/06/11
30 SECONDS TO MARS
POP SHUVIT
NEON TREES
BEAST
TICKETS
1. Go to the MTV Asia website:
- Follow the instructions and fill in the blanks on why you deserve to attend MTV World Stage Live in Malaysia 2011. Entry closes at midnight on July 6th!
2. Through i-City:
- Get the Fire & Ice Package - RM300 each. Only 500 packages available. Each consists of 1 x MTV World Stage 2011 pass, 10x Snowalk tickets, 20x Outdoor rides tickets
- Or spend RM100 (on single or accumulated receipts) from 10 June to 10 July 2011 in i-City and be among the 300 lucky winners to win MTV passes.
3. Do it the Xpax way:
- Register today and join the infectious wave of Kolony, the first of its kind SMS-based mobile social network by sending Kolony <nickname> to 25333. From 16 June 2011 onwards, KFREN MTV and start KDING and KBOMM all you can. The user with the most KDING and KBOMM will win a pair of passes. For more info on Kolony, visit www.kolony.com.my
- Xpax, U.O.X & S.O.X customers stand the chance to get 2 FREE passes to MTVWorld Stage Live in Malaysia 2011 by sending "MTV" to 28881 and reload minimumof RM50 during the promotional period starting from 10 June 2011 to 15 July 2011
- Passes can also be obtained by simply downloading the relevant content onChannel X,www.channelx.com.my, the Ultimate Mobile Content Channel which works as a one-stop platform for Xpax youths to get the latest, trendiest and funkiest mobile content downloads.
- Starting from 10 June 2011 onwards, visit Xpax Facebook at www.facebook.com/xpaxfb for more details on how you can get free passes to this most happening music event.
4. Subscribe to MasterCard:
- From 1-30 June, the first 1,000 new or existing Debit MasterCard cardholders who spend RM30 and RM60 respectively on their cards and SMS in their entry will qualify for two passes to MTV World Stage and Snowalk@i-City.
- On top of this, two debit cardholders will each stand to win a Rock On Priceless Package for two. This package includes passes to the MTV World Stage party, a limousine ride to MTV World Stage, chance to meet selected artistes up close & personal, a date with MTV VJ Holly and autographed MTV souvenirs.
- Qualifying debit cardholders can register for the passes by sending an SMS in the following format MCMTV<space>Full Name<space>NRIC number to 33387 by 30 June 2011. For more information, call 03-5635-1391 (Mon-Fri 10am-5pm excluding Public Holidays).
5. Have some Twisties:
- Twisties will be giving out passes to MTV World Stage LIVE in Malaysia 2011 through the Twisties Malaysia Facebook page. To find out how you can win more passes with Twisties visit www.facebook.com/twistiesmalaysia regularly to find out. source;
http://www.junkonline.net
ACCOMMODATION
Visit
Trip Advisor
for reviews and ratings for hotels in Shah Alam and
Kuala Lumpur
.
TRANSPORTATION
KTM(Train):
Take the KTM from KL Sentral to Padang Jawa station. From there onwards, it's a 10 minute taxi ride to i-City.
Car:
i-City is about 30 minutes away from Kuala Lumpur city center on a good traffic day and is accessible via a vast network of expressways (Federal Highway and NKVE). Here's how to drive to i-City using the Federal Highway:
1) From KL, drive on to the Federal Highway and head towards Klang
2) Take the exit towards Persiaran Kayangan
3) Turn right onto Persiaran Kayangan
4) Take the first left onto Persiaran Permai
5) Turn left onto Persiaran Bestari
6) Turn right onto Lorong Keluli 1c where i-City is located. source;
http://worldstage.mtvasia.com

ROLL CALL
xx_undertheburningsun + 1
MarsArmy Girl + 1
Scott
tira_leto + 1
EmaN LeTo + 1